I've been playing Moshi Monsters for just a month and I'm lovin' it! Moshi Monsters is a game where you can adopt your own monster. You can choose from:
A Luvli: So sweet!
A Katsuma: Is crazy about karate and is MY favourite!
A Diavlo: living volcano!

A Poppet: Loves to help and is the favourite of most Moshi Monsters fans
A Furi: Quite furry isn't he?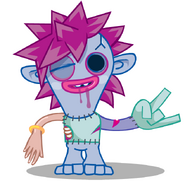 or A Zommer! Zommers are the least popular monsters in Moshi
it's pretty awesome and it's sooooo fun! You can also play games .
Be sure to check it out: http://www.moshimonsters.com/